TV/Radio
Larry Noto has taken his comedic talents and knack for storytelling to the world of television and radio – both on-air and behind the scenes. He has had his own weekly segment on WBAL radio; is  a regular guest on several of Baltimore's top radio programs and even earned an Emmy Nomination for his work at Baltimore's ABC affiliate. Of course, all of this came after the internationally-acclaimed "The Larry Noto Show"….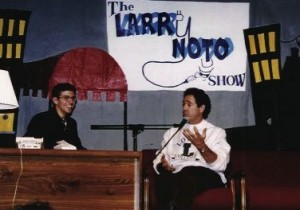 "THE LARRY NOTO SHOW" – Host/Creator – Loyola University
By the end of the first semester of his freshman year, Larry Noto had taken Loyola University by storm with the creation of it's first late-night talk show – "The Larry Noto Show" – a mixture of stand-up comedy, humorous videos, guest interviews and live music.
In addition to "campus celebrities," Noto welcomed guests from the outside world include Barry "Greg Brady" Williams from the "The Brady Bunch," Rolling Stone editor and author David Wild, NFL Hall of Famer Art Donovan and current Maryland Governor Martin O'Malley!
Initially taped in front of a live audience of a hundred people in the school's coffee house, the show would go on to sell out the campus' 300 and 600-seat theaters. With "Larry Noto Show" t-shirts, cups and posters plastering the campus, the show was a called a "major social fad in campus entertainment," "a pioneering event," and "flavorful, entertaining and unpredictable" by the university's newspaper.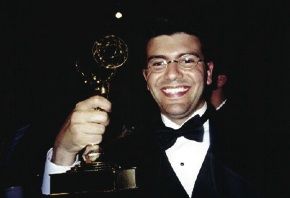 "RODRICKS FOR BREAKFAST" – Associate Producer/On-Air Personality – WMAR-TV ABC s
Noto started with this two-hour, live Sunday morning talk/entertainment show as an intern and quickly worked his was through the ranks to field producer, associate producer and ultimately producer. In addition to his producing and writing roles, Noto made regular on-air appearances on the show ranging from movie reviews and entertainment reports to pop culture spoofs and satire.
As the age of 22, Noto received an Emmy nomination from The National Academy of Television Arts and Sciences, DC Chapter in the Entertainment Program Segment category. The nominated story was the first package that Noto had ever produced.
"MARYLAND'S MORNING NEWS" – On-Air Contributor – WBAL 1090
One morning, Host Dave Durian introduced him as…. Larry "Where to Go" Noto… and the name stuck. Each week, Noto would report on upcoming events and happenings in Baltimore and Maryland, but with a unique mix of information and comedy. Noto promotes Baltimore by day and does stand-up comedy by night. Those two worlds were perfectly came together for an informative and entertainment weekly segment.